Regular price
Sale price
$49 USD
Unit price
per
Sale
Sold out
Regular price
Sale price
$49 USD
Unit price
per
Sale
Sold out
📏 Size Chart
Tactical Filtration Mask, is the ultimate training companion for athletes and fitness enthusiasts. This cutting-edge tactical mask combines advanced filtration technology with customizable resistance levels, enhancing your respiratory health and athletic performance simultaneously. With its secure and comfortable fit, you can train without distractions, while its dual-purpose design offers protection against airborne particles. Elevate your fitness with the Tactical Mask and experience improved lung function, oxygen utilization, and overall endurance. Breathe confidently, train wisely, and excel with this revolutionary tactical mask.
Read More...

More Information:

A cutting-edge and ground-breaking respiratory training tool created to improve sports performance and general respiratory fitness is the Training Mask Tactical Filtration Mask. This mask is an effective tool for athletes, fitness enthusiasts, and people looking to increase their cardiovascular capacity and endurance because it was carefully crafted and designed for optimal effectiveness.

The mask features a state-of-the-art multi-layer filtration technology that efficiently removes airborne particles including dust, pollen, and pollutants to create a clean and safe breathing environment during outdoor or intense training sessions. The mask stays in place even during the most strenuous activities thanks to the adjustable straps and a secure fit, allowing users to fully concentrate on their activity.

Revolutionize Your Workouts:With the breakthrough airflow resistance technology of the Training Mask 3.0, you can maximize the effectiveness of your exercise program. The mask's replaceable resistance caps let you to adjust intensity based on your level of fitness. It exerts pressure on your respiratory muscles by simulating high-altitude circumstances, improving lung capacity and oxygen uptake.

The Training Mask Tactical Filtration Mask's adjustable resistance levels are one of its best qualities. Users may replicate different altitudes and breathing situations using removable resistance caps, which helps them train their respiratory muscles to function well under pressure. This novel strategy improves lung function, oxygen uptake, and general breathing efficiency.

The mask is made of high-quality materials and provides comfort in addition to durability. Your ability to move freely and unrestrictedly during your workout is ensured by the soft yet strong construction. The mask's design also includes sweat-wicking elements to minimize discomfort from sweat buildup, making it appropriate for extended training sessions.

The Training Mask Tactical Filtration Mask is a dependable and efficient training partner for anyone trying to enhance their respiratory health, test their physical boundaries, or acquire a competitive edge as an athlete. It combines respiratory resistance training with filtration technology to provide an all-inclusive approach to improving physical performance.
>95% Filtration Efficiency

Stable Resistance Using Filtration

Filter Made with Breathable Moisture Wick Materials
Details

Advanced Filtration System: The Tactical Filtration Mask is equipped with a multi-layer filtration system that effectively filters out airborne particles, such as dust, allergens, and pollutants. This feature ensures that users can engage in outdoor or high-intensity training while maintaining clean and safe breathing air.
Customizable Resistance: The mask offers adjustable resistance settings through interchangeable resistance feltration. Users can simulate different resistance by using multiple filters and breathing conditions, allowing them to progressively challenge their respiratory muscles and improve lung capacity over time.
Dual-Purpose Design: Unlike traditional training masks, the Tactical Filtration Mask serves a dual purpose. It not only enhances respiratory endurance but also provides protection against harmful airborne particles, making it suitable for various training environments and conditions.
Secure and Comfortable Fit: The mask is designed with adjustable straps that provide a secure and personalized fit for various face shapes and sizes. This ensures that the mask stays in place during vigorous movements, allowing users to focus on their training without distractions.
📏 Size Chart

Small – 90-139 lbs
Medium – 140-240 lbs
Large – 240+ lbs
Care Guide

Regular Cleaning:

After each use, clean the mask by gently wiping the exterior surfaces with a mild detergent or disinfectant wipe.
Pay close attention to the filtration area and ensure any visible debris or particles are removed.
Rinse the mask with clean water to remove any residue from cleaning agents and let it air dry.
100% Risk Free Guarantee

We offer a 30-Day No Questions Asked Guarantee for your peace of mind. If you are not completely satisfied with your purchase, simply contact our customer support within 30 days of the original purchase date, and we will initiate the return process without asking any questions.
>95 Particulate Filtration

Increase Stamina with Filtration

Increased Caloric Burn
Improve Heart Health

Proven Clinical Studies

Improve Mental Focus
View full details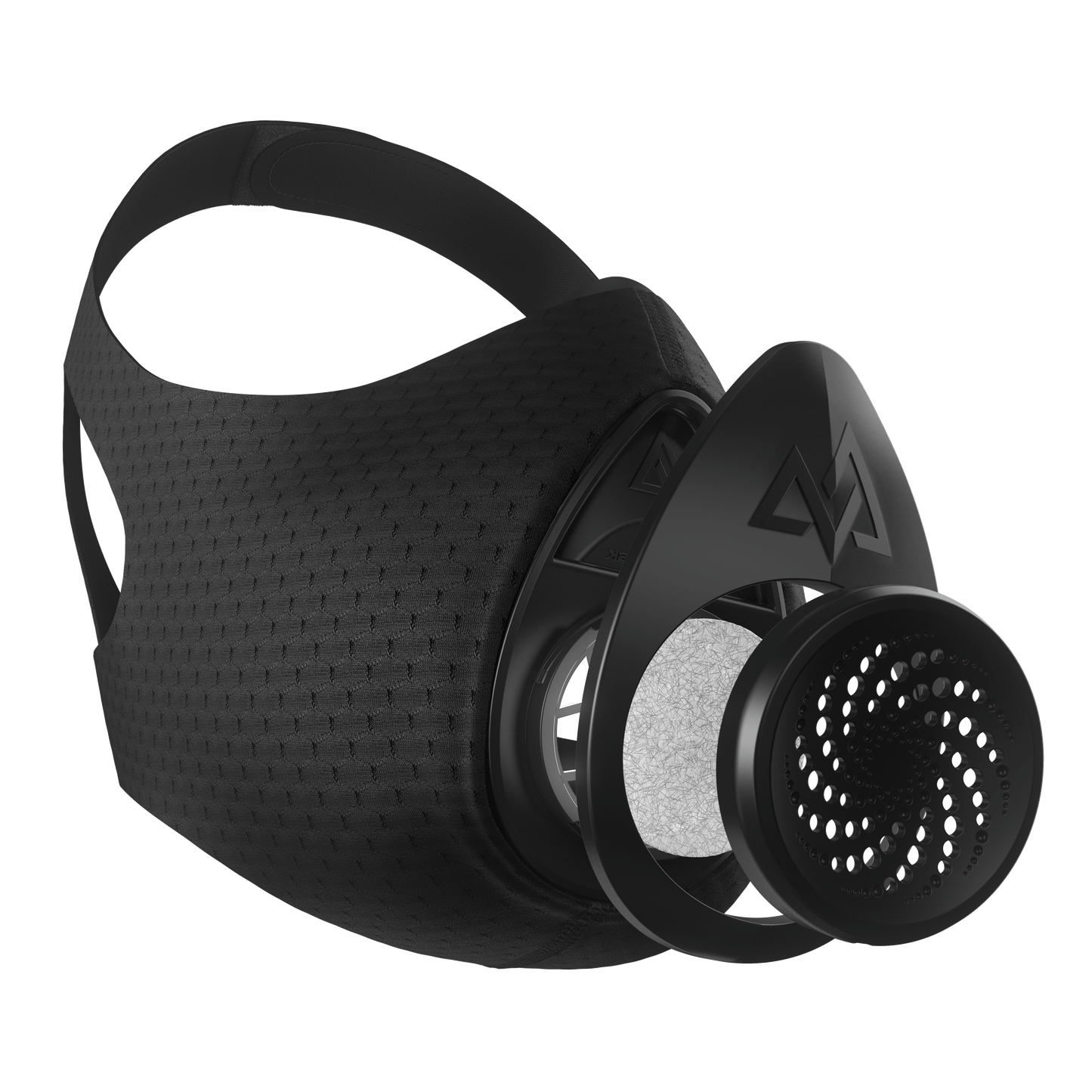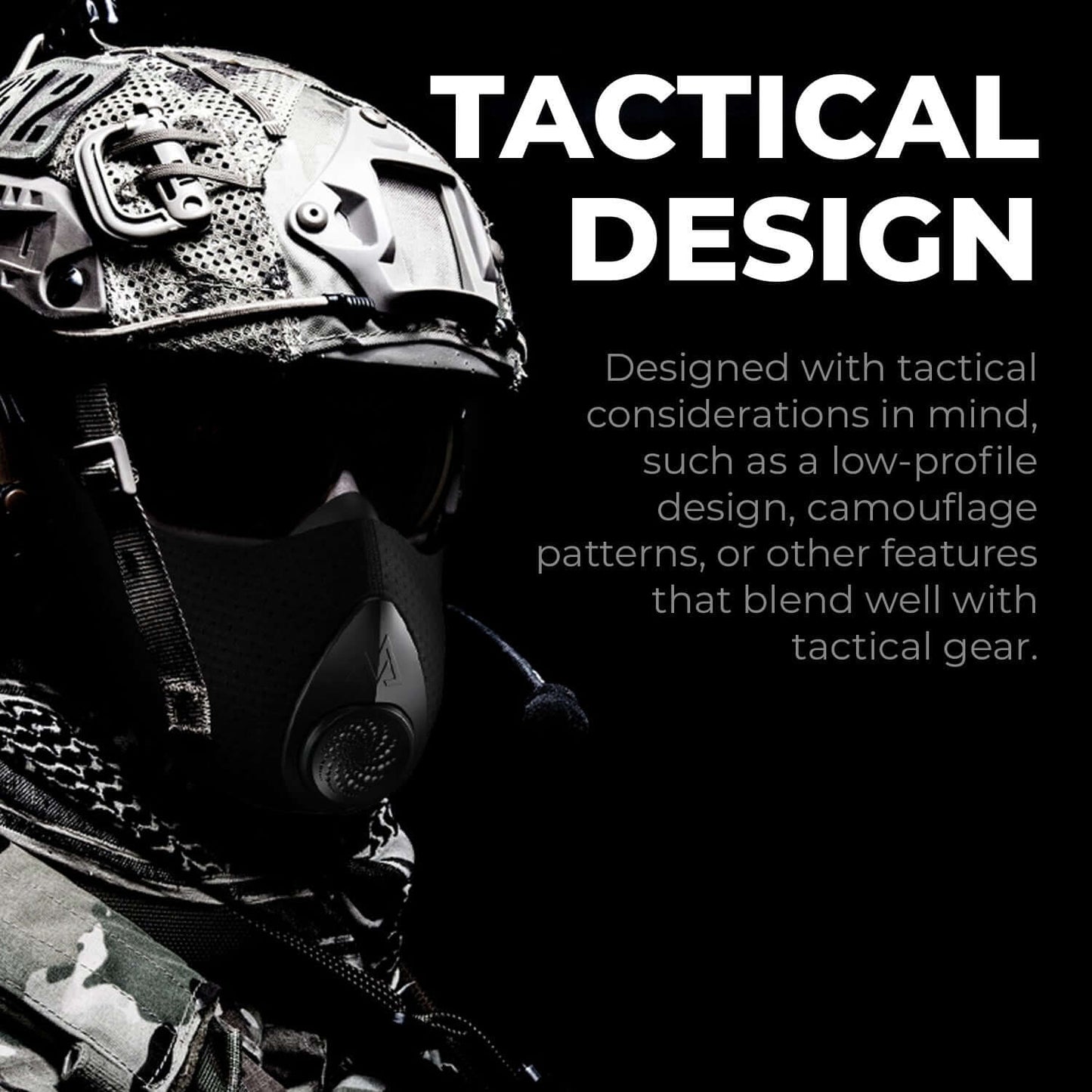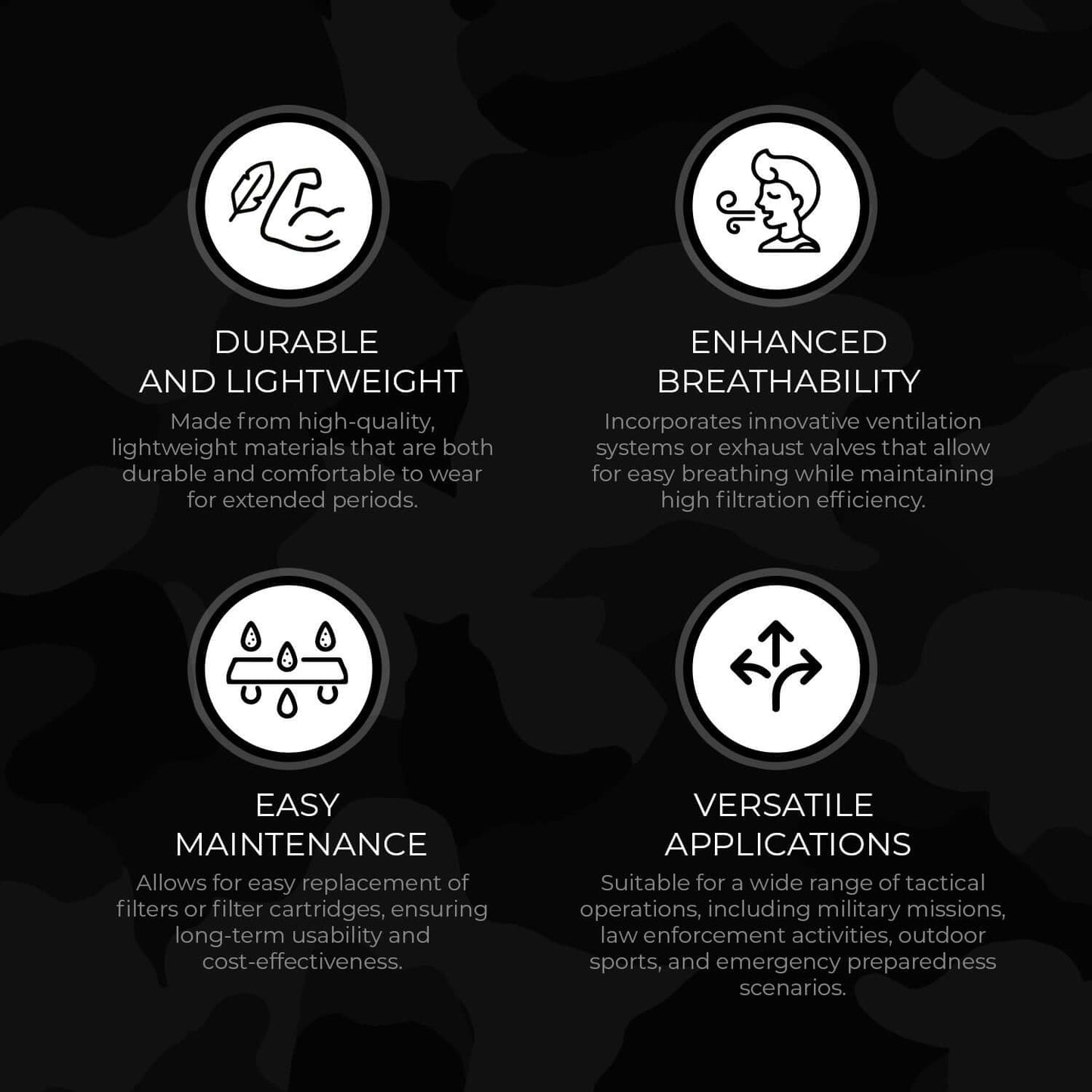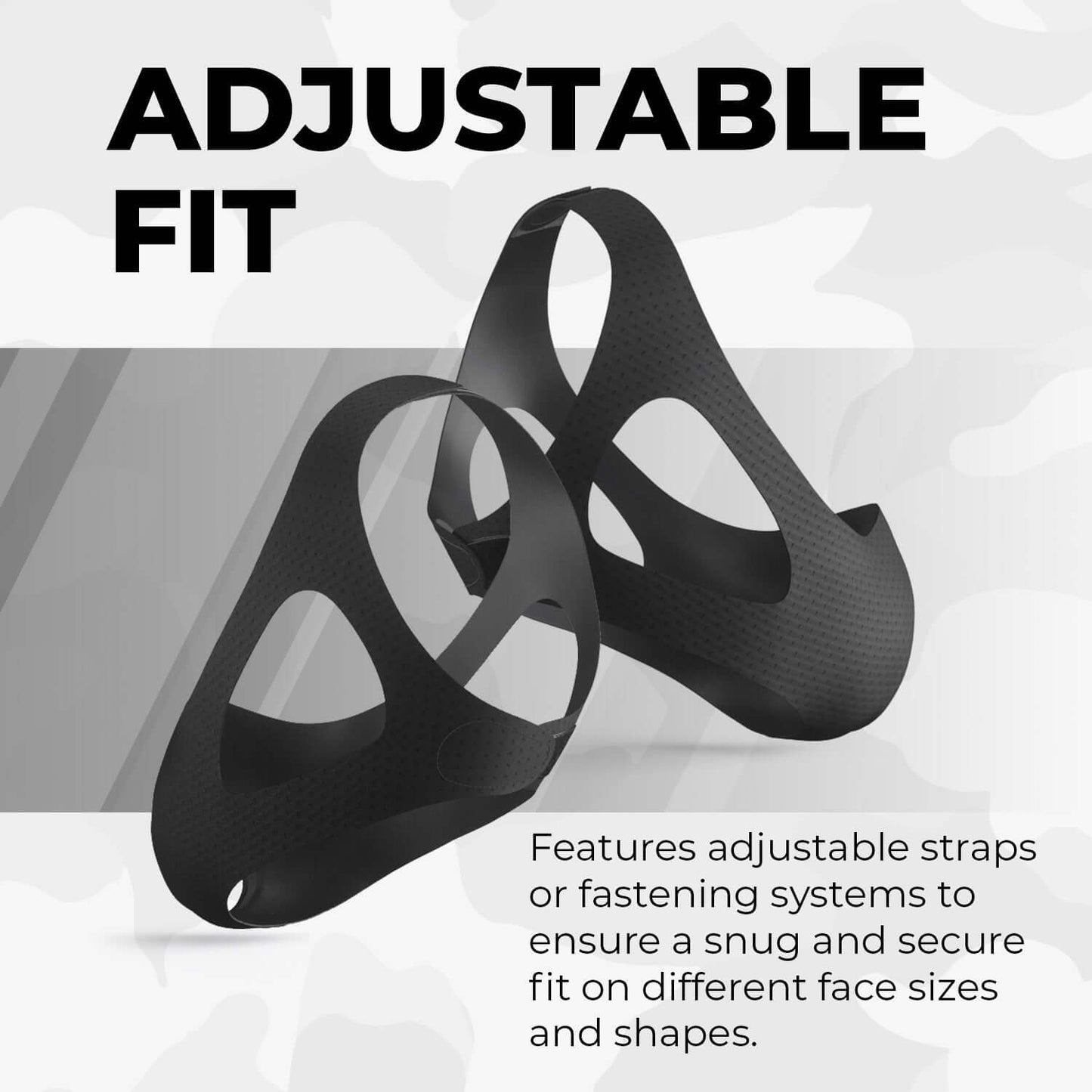 | Size | lbs | kg |
| --- | --- | --- |
| S | 100 ~ 149 | 45 ~ 70 |
| M | 150 ~ 249 | 75 ~ 115 |
| L | 250+ | 115+ |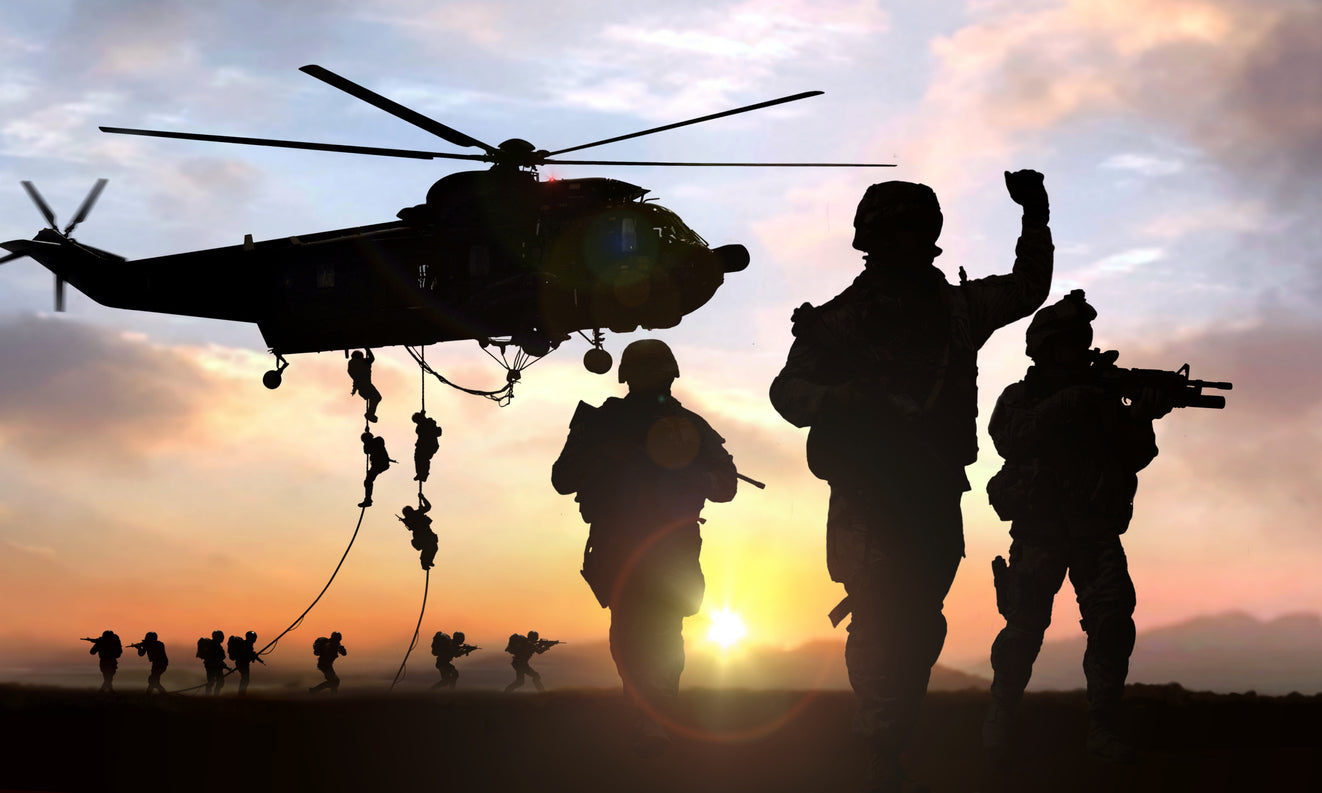 Improved Filtration System
Durable Construction: Built with high-quality materials, the Tactical Filtration Mask offers durability to withstand intense training sessions. The mask is designed to withstand moisture and wear, making it suitable for long-term use.
Breathable and Sweat-Wicking: The mask's construction includes breathable materials that facilitate proper air circulation, preventing discomfort due to heat buildup. Additionally, moisture-wicking properties keep sweat at bay, allowing users to stay comfortable throughout their workout.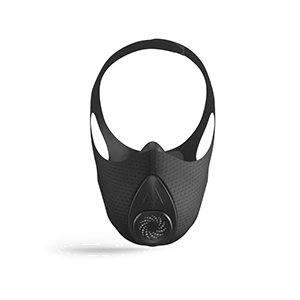 Performance with Filtration
Health Benefits: Regular use of the Tactical Filtration Mask can lead to improved lung function, enhanced oxygen utilization, and increased respiratory muscle strength. These benefits can translate into better endurance and overall athletic performance.
Wide Applicability: The mask is suitable for a range of activities, including running, cycling, workouts, gun range training, shooting sports where lead may be present. It is designed to accommodate both beginners and users who are looking to elevate their performance fitness with filtration.
Improve your health one breath at a time
Revolutionize your training and take your fitness to the next level with TrainingMask. Our cutting-edge training equipment is designed to enhance your performance, improve endurance, and optimize your workouts. Whether you're a professional athlete, fitness enthusiast, or someone looking to improve their overall health, TrainingMask has the tools you need to reach your goals.